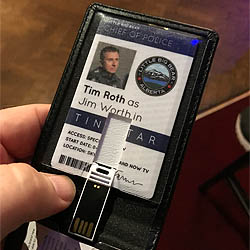 This was one of those talks. You feel the crackle in the air and the hairs spike on the nape of your neck from the speaker's passion as it ignites the air.
Rowan Joffe, writer, director and the man behind Sky Atlantic's new series; Tin Star, is the man you want to listen to every Monday morning to incite you to blaze through the week in a storm of focus, productivity and visceral inspiration.
This is the man who; wrote and directed Brighton Rock and the excellent, Before I Go To Sleep and wrote 28 Weeks Later and The American. Tin Star is his new revenge ten parter featuring Tim Roth and Christina Hendricks that's due to be screened in September.
Some of the takeaways that slammed home for me were:
The Greeks nailed story centuries ago. Whenever the script isn't working, go back to the Greek plays.
Add an archetype, it will strengthen your story.
Revenge stories always work.
Always have internal and external conflict.
What's the character arc? It's always interesting when we see how a bad guy becomes bad. It's compelling. Eg Walter White.
An unreliable narrator or witness is always interesting.
Have the character's traits get in the way of what they want.
If the film sags, re-cut it non-sequentially, and all sort of synergy happens. Even if you then decide to put the film back together in sequence, the energy remains.
Pitch the three acts, the low point, the twist, the interest and one scene in detail.
Some anecdotes…

He approached seven agents in his quest for representation and it takes him two weeks to write a script. Two. Go and lie down with a cold compress on your head for a minute. Heart rate under control? You read right. Two weeks to blaze through a story and write a full script. If that's not rectal engagement I don't know what is. So, fire up the laptop and engage ass!

Fabulous.
Jade S. Bokhari