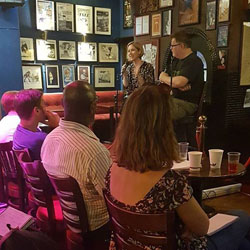 By Dorothée Kuepers
So the London Breakfast Club had done it again. Once more, the Phoenix Artist Club was packed with writers and filmmakers eagerly awaiting the session on: 'Writing, Producing, Funding and Shooting your short film,' on a sunny Friday afternoon.
In this session, actress Vanessa Bailey, accompanied by her director, Chris Jones, told us with refreshing honesty how she achieved writing and making her first short film with no previous experience.
Having had the privilege of attending the premiere of her moving and emotional film SEEING HIM at the Prince Charles Cinema in Leicester Square a few weeks earlier, I was eager to find out how she pulled it off.

Here are my personal highlights in a nutshell.
Select the right team
Quality was a word that came up again and again. Vanessa talked about the importance of hiring at least one highly experienced person (DP, James Layton in this case), who will elevate the whole project, consequently giving it higher production value and attracting other high quality people. Being a novice at writing and producing, Vanessa shared a crucial nugget of wisdom for anyone, who is planning on making their own film: "Your worst enemy is ego. Let others shine and do what they do best."  
Don't sell your film short
Having hired and fired an array of crew and cast members, including Chris Jones for having the audacity of becoming a new parent, Vanessa quickly learned to put her project first. "Putting out rubbish would have been more painful than starting again." It's all about showing your best work, raising your standards, which will lead to others getting on board.  Giving your friends jobs may not necessarily be the best thing for your project, stressed Vanessa. Chris later came back on board and together with Vanessa, took SEEING HIM  in a new direction, resulting in the stunning film we saw.
Crowdfunding
All in all Vanessa ran five separate crowdfunding campaigns. Having a sound marketing campaign and particularly a good pitch video are crucial for getting backers interested in your project, as well as offering attractive perks. "It's a lot of work, but it's worth it."  The importance of crowdfunding and the obligation she felt towards her backers became a saving grace for her film.
Stay fluid and flexible
Life will get in the way. Vanessa suffered many setbacks and incredible personal tragedy during the making of her film. I cannot begin to imagine the strength and determination needed to carry on during such circumstances, but she did it. "I owed it to my backers."  Being responsible for other people's money, combined with sheer determination, gave her the push she needed to carry on.
Online presence
Vanessa made a point of saying how important a solid online presence is. She messaged her leading man, George Taylor, on Twitter, rather than going through his agent. Chris Jones was 'stalked' by her, also on Twitter…and the rest is history. Stalking aside, creating a buzz around your project on social media can make all the difference. "Be nice to everyone you meet." You never know where it might lead.
When asked by an audience member what got her through the hardships and hurdles during the making of this film, she simply replied: "Passion and perseverance."
I personally left the Phoenix Artist Club feeling inspired, invigorated and rearing to get my own project going.
I only touched on what was discussed, so please do listen to the podcast.
Thank you to the London Breakfast Club for yet another inspirational afternoon.
Dorothée Kuepers