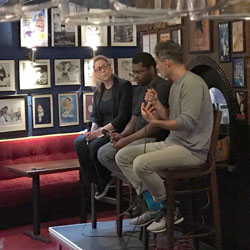 Just as #RefugeeWeek is about to kick off, The Breakfast Club had the pleasure to host a conversation with the team behind BAFTA winning short HOME, in front of a crowd attending the event largely for the first time. 
Director Daniel Mulloy and Producer Afolabi Kuti made for the most candid and articulate speakers on the sensitive topic of the far right rising and refugee crisis.
What resonated with me particularly was Daniel somewhat echoing the words Ken Loach used at the LSF launch event just 2 days prior - it's not about words on a page or anybody's ego. It's about the truth that lives in you, and connecting with human beings that vibrate at the same level. Everything else is anecdotal. 
Catch HOME on Vimeo on Refugee Day: Tuesday 20th of June.
Maureen
Team Breakfast Club