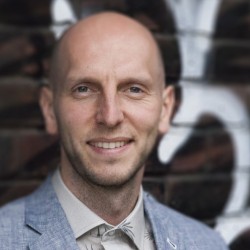 By Tom Kerevan
When Chris asked if I was going to be blogging about the morning's Breakfast Club, a voice wafted over my shoulder: "As long as you don't call the speaker a stupid twat."
Meet Mark Talbot, comedy producer at Hat Trick productions and a man who likes to make his own introductions. Sorry Mark.
Having been to a few before, as well as two LSWF's, I know that every speaker is different and you never know what to expect. Mark kicked off at 9am with one of his sketches from a few years back – The Department of Internet Hate – and by 9.02 had the whole room laughing at the idea of calling a laughing baby a little cunt.
It was clear this wasn't a session for the easily offended.
There's a time and a place for a 'serious' discussion about writing, but comedy sketches isn't it. Luckily for us, Mark agreed, and whilst it might have been light-hearted, that's not to say it wasn't in-depth. In a wholly relaxed and informal manner, Mark gave us an entertaining and unerringly honest overview of the world of comedy sketches. From a summation about the categories all popular internet vids fall into, to a discussion of optimum length which, for once, had a woman wanting a definitive answer, Mark's insights were invaluable and fun, the perfect way to kick off a 'pull-a-sickie' Friday.
That's what I love about the Breakfast Club – it feels like a bunch of writers and film-makers having a chat, with an established professional simply guiding the conversation and relaying their experiences. Whilst Mark is a knowledgeable chap, what I enjoyed most was his uncanny, and somehow self-depreciating ability to inspire by reminding us that there is no magic formula for this industry – it really is up to you.
If you missed out and need a kick up the backside, here's Mark's take…
Make shit and put it online. So many just talk about making stuff and/or never put it online. If people don't like it, they won't watch it. If they do, it'll get loads of hits.

BUT… don't be put off by the view counter. Rather than checking every hour, you could be out making the next thing. Get over yourself and keep making content.

Making films is easier than ever before. If you have a good idea for a sketch, then all you need is a camera, some actors, a location and somewhere to edit. If you don't, then start asking around. There's no excuses not to make stuff. Ring up post-production houses and ask if anyone wants to spend a few hours editing a comedy sketch. Be bolshy and persistent. It takes hard work, talent and luck.

The optimum length for a sketch is to end when it's funniest. Build to an unexpected pay off, but most importantly, "edit the fuck out of it." Make it as short and sweet as humanly possibly.

Comedy is subjective. Take on board constructive criticism, but don't worry about whether other people find it funny. In fact, fuck the audience. If it makes you happy, go and make it. NOW!
So there we have it… an hour of inspired comedy about how to make inspired comedy.
All by some stupid twat.
Tom Kerevan is a London-based screenwriter with two features in development with Austen Productions, a feature with 321 Productions and a spec TV sitcom.
@TomKerevan